The Urban Spirit Foundation is a new registered charity that envisions an Urban Aboriginal community that is holistic, equitable and self-sufficient.

The foundation's mission is to grant opportunities for Urban Aboriginal people on their journey to success and the relief of poverty through the following grant giving programs:
Education and Employment: USF supports ACCESS programs such as BladeRunners, employment assistance services, skills training and entry to education and trades/apprenticeship training programs through its partnership with ACCESS. Your gift enables urban Aboriginal people to learn life-changing skills that lead to employment.


Scholarship Awards: USF provides secondary and post-secondary scholarship awards based on need and ability to persons of Aboriginal descent who are in high school and/or pursuing post-secondary studies in fields that will help meet the specific needs of First Nations, Inuit, or Métis peoples and communities. USF would like to expand these awards to more school districts, colleges and universities.


Poverty Relief (Short Term Assistance): USF provides short-term grants to urban Aboriginal organizations in the relief of poverty among urban Aboriginal people by funding community- based programs and projects that move people from poverty to self-sufficiency.
The Urban Spirit Foundation embraces the following core values:
RESPECT - Yourself and Each Other
HONOR - Through Dignity, Honesty and Accountability
SHARING - Our Experiences and Wisdom
KINDNESS - In our Actions
Urban Spirit Board of Directors
Susan Tatoosh, Chair
Vancouver Aboriginal Friendship Centre Society - Executive Director

Jennifer Forbes, Vice Chair
Vancouver Aboriginal Transformative Justice Services Society
Stewart Anderson, Secretary-Treasurer
Manager Community Investment – Indigenous Partnerships Vancouver City Savings Credit Union (Vancity)

Ross Ramsey, Director

Ken Clement, Director
Canadian Aboriginal AIDS Network – Chief Executive Officer

Lou Demerais, Director
Vancouver Native Health Society – Executive Director
Joe Mazza, Director
LATEST NEWS:
---
URBAN SPIRIT FOUNDATION PRESENTS THE JOHN WEBSTER MEMORIAL CHARITY GOLF CLASSIC 2019

This will be held on July 12th at Country Meadows Golf Club.
Please click here to see poster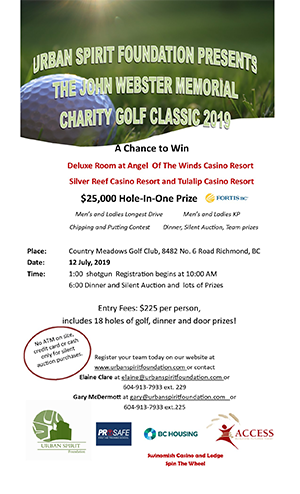 ---
New Trades Programs
Welding Foundation
Piping Foundation
Metal Fabrication Foundation/Marine Fitter
For more information please visit our Trades Training page
---
For more information, please go to www.urbanspiritfoundation.com